News
---
1.26.06 - D.L. Hughley has been cast in Aaron Sorkin's new show for NBC, originally called Studio 7. The drama series is set behind the scenes at a Saturday Night Live-type show. Hughley will be playing one of the sketch show's stars, while Matthew Perry will play on of the writers and Steven Weber will play the network's chairman..
8.25.05 - Comedy Central has decided to no longer show the Sunday night edition of Weekends with the D.L. The show will continue to air on Friday and Saturday nights.
8.21.05 - From the August 21st issue of TV Guide: Cheers to D.L. Hughley for finding the right vehicle with his new comedy Central talk show, Weekends at the DL. The stand-up comic, whose family sitcom The Hughleys was never as smart as he is, can finally cut loose with a topical monologue, sharp political skits and hip guests like Chris Rock, The Daily Show's Lewis Black and 30 Days' Morgan Spurlock. This is one show that shouldn't be kept on the DL.

D.L. Hughley by
Marc Lecureuil/Comedy Central
7.29.05 - TV Guide Online: D.L. Hughley Talks and Talks and Talks
by Danny Spiegel
When last we spoke to D.L. Hughley, one of the Original Kings of Comedy, he was a "finalist" for the host's chair on The Late Late Show. He told TVGuide.com then that if the CBS gig didn't work out, he planned to somehow be in late night. Turns out, his plans came through: Tonight his new talk show, Weekends at the D.L., premieres on Comedy Central (airing Friday through Sunday at 11 pm/ET). The comedian, whose sitcom The Hughleys aired from 1999-2002, is now an unscripted man. Weekends features comedy sketches, musical acts and guests, and, in a format somewhat akin to Politically Incorrect, the celebs du jour will engage in roundtable discussions. When we called Hughley at his Los Angeles production offices, his usual easygoing manner was evident. That is, until he was caught having an early lunch.
TVGuide.com: Congratulations on the new show. But obviously, it must have been a bit discouraging back in December when you didn't get The Late Late Show.
D.L. Hughley: Well, first off, I didn't believe I would get the job. We [Hughley and David Letterman's production company] are just different kinds of people. But I really do respect the medium of late-night talk. It's what I've always wanted to do.
TVGuide.com: You had another talk show in 1990. What have you learned about being a good host since then?
Hughley: I've learned a ton. I've learned that the more experiences that you have and the more varied those experiences are, the more apt you are to be able to connect with an audience. But you gotta know yourself comedically, and I just didn't in 1990.
TVGuide.com: What type of comedy segments will Weekends have?
Hughley: One of the first things we're going to do is... Hang on one second. [Answers cell phone] "Hey, honey... OK, baby... I'm doing the interview. I'll see you when you get here... All right. Love you... I'm eating a salad, but it's just a salad... Yes. Love you." [To TVGuide.com] That was my wife.
TVGuide.com: She asked what you were eating?
Hughley: [Slight pause] Yes. My wife was supposed to be here, like, an hour ago and told me not to eat. But I've been starving since this morning so I had to sneak a salad.
TVGuide.com: I thought maybe she was saying, "You've got to eat healthy, D.L.!"
Hughley: No, [it was more like] "Listen, dammit, you better not be eating." [Laughs]
TVGuide.com: Now you were saying about comedy bits...?
Hughley: We have a lot of pieces that we're very excited about. So many CEOs are going to jail, but they don't really know how to act in prison. So we're making a prison film to help them acclimate — a "Do and Don't Do If You're a CEO in the Penitentiary." And we did a bit where Comedy Central made me take a psychological evaluation before I started the show because ever since [Dave] Chappelle [postponed production of his show], they're more selective when they hire the brothers. [Laughs]
TVGuide.com: Do you know Dave Chappelle?
Hughley: Absolutely. But [the bit] isn't a knock on him. It was a stab at the nervousness of the network. I think it's the funniest thing when you joke with your boss.
TVGuide.com: You and Chappelle have both been around for a while. Do the comparisons get a little frustrating?
Hughley: Not to me. You get your shot when you get your shot and you make the most of it. He's done a good job, and I'll do a good job.
TVGuide.com: Why the Politically Incorrect-esque roundtable format?
Hughley: I've watched too many times where you have one guest on and the energy is always kind of the same. You can't tell whether you're watching them on Jay or Conan... Generally celebrities have a film or a book [to plug], and it always looks like they're never happy to be here. We want a throwback to the old shows where people did late night television because they wanted to be on the show with the host. We want people to have fun, come in and drink wine and talk about what they wanna talk about.
TVGuide.com: Will you really be drinking wine on the show?
Hughley: Absolutely! We will be drinking wine.
TVGuide.com: You still do a lot of touring. Do you ever get sick of the grind?
Hughley: I never get sick of performing my material. I get sick of my own voice sometimes. I don't like to talk a lot. People are like, "How are you a comic and you don't like to talk?" But sometimes, literally, the sound of my own voice drives me crazy. Even when I'm just reading something, I'll try to have another voice. Like the one I use all the time is James Earl Jones.
TVGuide.com: You should really look into that, D.L.
D.L: Actually, I wanna be James Earl Jones. [Laughs]
TVGuide.com: A solid goal. Before you go, what kind of salad is it that you're not supposed to be eating right now?
Hughley: It's chicken. [Laughs] Chicken Caesar.
TVGuide.com: Um, you know that޲s practically a full meal...
Hughley: I only ate the lettuce! And chicken for spice....Well, now I feel like I'm really explaining myself. "I only ate the lettuce!"
4.28.05 - Comedy Central has ordered up 39 episodes of a late night D.L. Hughley talk show to air on Fri-Sun evenings at 11p, produced by Robert Morton. The show's working title is Weekends at the D.L., scheduled to kick off with a 13 week stint, beginning this summer.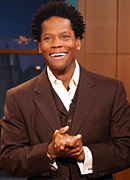 11.16.04 - TV Guide Online: Will Hughley Get Kilborn's Late Job?

by Danny Spiegel

D.L. Hughley, one of the Original Kings of Comedy, is looking for a new type of throne. Craig Kilborn's old desk chair at CBS's The Late Late Show is still up for grabs. This week, Hughley has returned for his national callback, following his well-received guest-hosting stint in September. But the comic — who's best known for his ABC-turned-UPN sitcom The Hughleys — isn't sticking to just lighthearted material these days. Hughley recently shot his first dramatic role in an intense, as-yet-untitled prison drama to be released next year. It appears that any way you look at it, it's good to be a king.

TV Guide Online: How badly would you like to make this guest-host gig a permanent position?
D.L. Hughley: Well, I've always wanted to do late-night, and I'm confident I'll do late-night whether this is the gig or not. No matter what happens, the powers that be are going to decide what they decide for any number of reasons, but I'm going to make sure that I work as hard as I can and, hopefully, people will enjoy what I do.

TVGO: What you are willing to do to win this job? Are you ready to take on your fellow guest-host Michael Ian Black in some bare-knuckle boxing if necessary?
Hughley: If I can't whup Michael Ian Black, I've got a whole bunch more problems than this show. (Laughs)

TVGO: What the dumbest thing someone has said to you on either of Bill Maher's shows?
Hughley: There've been so many things. A black conservative on Politically Incorrect said, "I bet I've been to more black churches than anyone on this panel." Then, there was this pause, and he looked at me and went, "OK, maybe not."

TVGO: You just finished playing a teacher for prison inmates. Did you have to fight for that dramatic role, considering your comedy background?
Hughley: The writer said that my comedy came from such a place of anger — I don't know how great that is — that I was automatically the first person he thought of for the role.

TVGO: And you filmed in a real prison, right?
Hughley: It was real prison. I remember when I was a kid, when you got in trouble, they said they were going to send you to Nelles [Youth Correctional Facility in Whittier, California]. I used to be in trouble all the time, so Nelles was always in my consciousness. It was surreal that I actually went, but it was for a different purpose than I ever imagined.

TVGO: Was the prison still in use?
Hughley: It had closed a month before we started shooting there. But I'll tell you a weird thing that happened on the set. We were shooting a scene and an office phone was ringing, [so] I go, "Man, would somebody get the phone?" Everybody was looking at me like I'm crazy and they go, "There's no phone." And I thought they were f---in' with me, and come to find out that there was no phone in the place, but I'd heard it just as clear as day. The deputy came over and said, "You know, people say all the time that the place is haunted, and one of the things they say is people hear a ringing phone."

TVGO: Wow. I just got a little chill there. Thanks a lot. Anyway, when's the last time you and your fellow Kings of Comedy — Steve Harvey, Cedric the Entertainer and Bernie Mac — all got together?
Hughley: Cedric and I get together all the time. Our wives are best friends. We get together and compare department-store bills. And Steve and I get together a lot. I haven't seen Bernie in a while because he's been busy doing the show and working.

TVGO: Before you got into show business, you were a telemarketer.
Hughley: Uh-huh, and one time, I called Jay Leno and he all but cussed me out. I said, "I'm with the Los Angeles Times..." "Geez, geez, geez! You guys call all the time and I'm tired of it!" We had to take a complaint and put his name on the "Do Not Call" list.

TVGO: Has he apologized to you since?
Hughley: He doesn't admit that it happened. But it did. (Laughs)

9.2.04 - D.L. Hughley is one of the guest hosts that will be filling in on The Late Late Show after Craig Kilborn's departure beginning September 20th.

11.6.03 - CBS has ordered a pilot titled Liar. Based on the British game show, Liar requires a studio audience to figure out which one of six contestants is conveying a faux real-life experience. D.L. Hughley will host.

5.15.03 - Elise Neal's new comedy, All of Us, has been picked up by UPN for the fall season. It will air on Tuesdays at 8:30pm ET.

4.3.03 - An untitled NBC sitcom pilot with Howie Mandel (Pariah TV) has added D.L. Hughley to the cast. The show is based in large part on Mandel's life - the father of three who is also works on television. His TV job is working on the Tonight Show with Jay Leno as a guy who pulls hidden camera stunts. D.L. Hughley is his cameraman.

1.16.03 - From the January 18th issue of TV Guide: D.L. Hughley pops up on the January 23 episode of NBC's Scrubs, playing Kevin, the brother of Chris Turk (Donald Faison). "They actually shoot the show in an old hospital," Hughley says. "It was the first time I was in a hospital and didn't have to lie about whether I had insurance or not." Dick Van Dyke also makes an appearance as a doctor. Next up: Hughley is developing a sitcom for NBC about a songwriter who gives up the music biz to start a family vineyard in Solvang, a Danish town in California. "It's just funny. It's like a black Green Acres."

12.10.02 - D.L. Hughley will make a guest appearance on NBC's Scrubs on Thursday, January 23rd, as Turk's brother Kevin.

10.4.02 - Zap2It.com: Hughley On His Way to 'Solvang' - Comedian D.L. Hughley is headed to "Solvang." He is in negotiations with NBC to co-write, executive produce and star in a comedy for NBC Studios that would send him to California's wine country, according to The Hollywood Reporter. "Solvang" is about a black man and his family who leave their city lives behind and open a bed-and-breakfast in the Central Coast town. They bring along a Latina caretaker and her family in the comedy, which has been likened to "Green Acres." Hughley will write and executive produce the series with Donick Carey ("The Simpsons," "The Late Show with David Letterman" ).

5.16.02 - UPN has cancelled The Hughleys.

12.28.01 - Zap2It.com: UPN Comedies Pay Tribute to MLK

12.11.01 - The Hughleys received four nominations for NAACP Image awards:

Outstanding Comedy Series

D.L. Hughley for Outstanding Actor in a Comedy Series

Ashley Monique Clark for Outstanding Youth Actor/Actress

John Henton for Outstanding Supporting Actor in a Comedy Series
The awards will be presented on February 23rd in Los Angeles.

10.29.01 - D.L. Hughley will be on Late Night with Conan O'Brien on Wednesday, October 31st.

10.29.01 - D.L. Hughley will be on Politically Incorrect with Bill Maher on Monday, November 5th.

10.8.01 - TV Guide Online reports that Elise Neal will star in "Holla," an independently financed slasher comedy feature slated for production later this year.

10.23.01 - D.L. Hughley will be on Conan O'Brien on Thursday, November 1st (actually late night on Wednesday, October 31st).

9.26.01 - After just two weeks pounding the boards, Twentieth Television has cleared The Hughleys in 65% of the country, including the Fox O&O group as well as stations from Clear Channel, Granite, Tribune and Hearst-Argyle. The deal for the off net series is for two years - straight barter, which precludes most stations from airing the show in access, but rather will use the program as a transition show for afternoon to early fringe, or early fringe to access. In an illustration of new times amid duopolies, The Hughleys will air on two different stations in the same market in New York, LA, Dallas, Phoenix and San Antonio, where it was cleared on the Fox stations duopolies, and/or the now Fox-owned Chris Craft stations. The stations/markets effected include WNYW and WWOR; KTTV and KCOP in LA; KDFI and KDFW in Dallas; KABB and KRRT in San Antonio; KSAZ and KUTP in Phoenix. Other clearances include WCIU/Chicago, WPSG/Philly; WSBK Boston and WTTG/Washington.

5.17.01 - The Hughleys has been picked up for another season by UPN and will be airing on Mondays at 8pm ET.

3.21.01 - TV Guide Online: Funny Business on Brothers Set - Bill Bellamy and D.L. Hughley had a field day abusing Shemar Moore on the set of their new film...

10.18.00 - TV Guide Online: Marla Gibbs Comes Clean

12.2.99 - D.L. Hughley and Elise Neal were nominated for NAACP Image Awards for their roles on "The Hughleys." Ashley Clark was nominated as an outstanding Youth Actor/Actress. "The Hughleys" was nominated as an outstanding comedy series. In addition, "D.L. Hughley: Going Home," D.L. Hughley's HBO special, was nominated as an outstanding variety series/special, and D.L. Hughley's performance in this special was nominated for outstanding performance in a variety series/special. The awards ceremony will be broadcast by FOX early next year.

4.8.99 - D.L. Hughley has signed on for the New Regency Productions movie "Honky!" It is about two unlucky producers of a funky 1970s variety show who try to sabotage their own program when another network offers them a better deal. Their plan is to ruin the show by hiring the "whitest honky on the planet."